NEW
Swami Vivekananda: 154th Birth Anniversary
Due to a recent increase in the security measures taken by the Indian Embassy, those who wish to attend to Swami Vivekananda's 154th Birthday Celebration, MUST reserve beforehand via email. 
We apologize for the inconveniences this may cause, but we would appreciate your understanding.
In the title of the email please write: "Requesting permission to participate in Swami Vivekananda's Birthday Celebration"
The deadline for reservations is May 25th 2017, by 5pm. The availability of seats will be given on a first come first serve basis. 
On the day of the celebration, you MUST bring an identification document with a photograph (for instance, Driver's License OR Zairyu Card OR Passport, etc.)
Due to increased security at the Indian Embassy, Video and Audio recordings, Food Items and Large Suitcases are not allowed, so please refrain from these.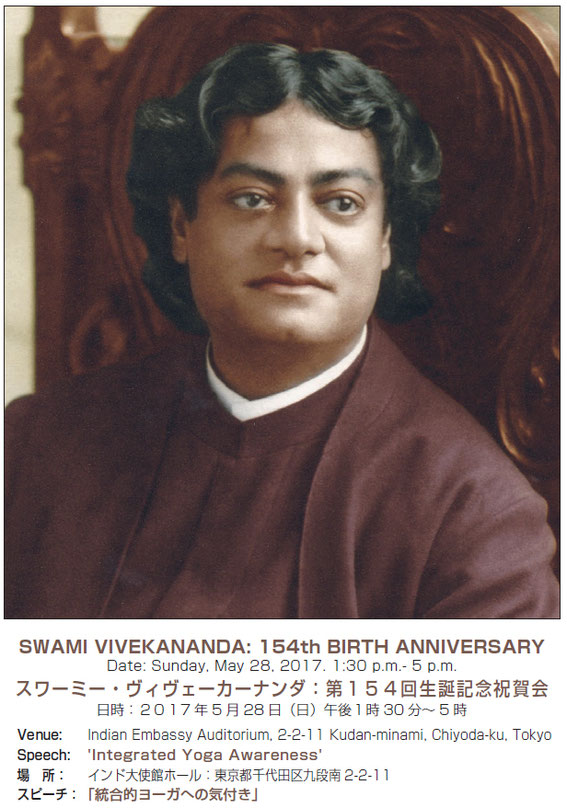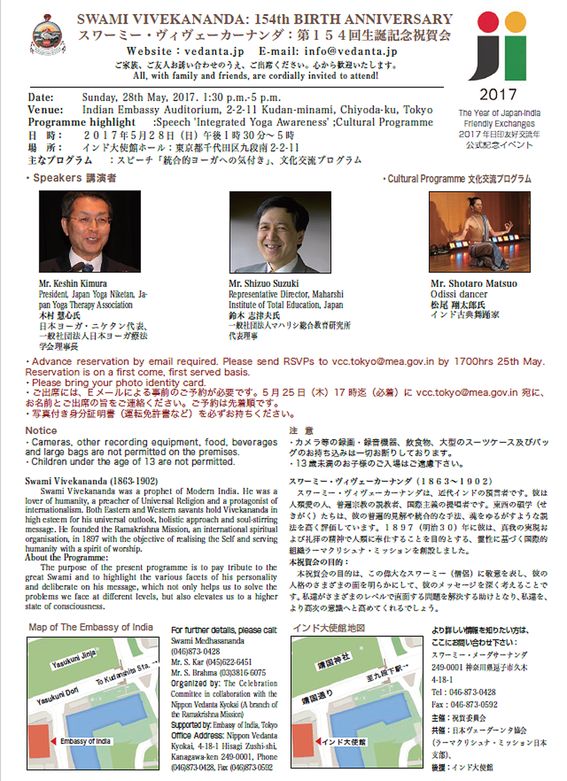 ★

 Upcoming Programmes

★
All are welcome!
<Akhanda Japam> (Special Japam and Meditation Day)
Date: 29th April
We hold Akhanda Japam (continuous spiritual practice of silent mantra chanting, meditation or prayer) twice yearly at our Zushi Centre. Participants practice for one hour periods or more continuously in silence creating a holy atmosphere. You are welcome join at a time of your convenience. This practice is quite easy and beneficial for beginners. If you would like to participate, please contact Suzuki <vedanta.karmayoga@gmail.com> as to a time convenient for your participation by April 20th.
Date: April 29h (National holiday) 5:00~20:00
Venue: Kyokai Shrine
Note: Meal to be served.
<Monthly Retreat at Zushi>
Date: 21st May
10:30 Meditation
11:00 Discourse:
         Speaker: Swami Medhasananda
         Theme:
12:30 Lunch
14:45 Chanting, reading, discourse, songs
16:30 Tea
18:00 Arati
<Summer Retreat 2017>
July 15th(Sat)~17th(Mon)
Theme: Awareness and Practice of a Higher life 
(in Jamanese only)
・宿泊場所:奥琵琶湖マキノグランドパークホテル http://www.gphotels.jp/
・主な内容:比叡山延暦寺巡礼、琵琶湖畔での瞑想とヨガ、講話
今年は目の前に美しい砂浜が広がる静かなホテルに泊まり、早朝はプライベートビーチで瞑想やヨガを行う予定です。インド哲学をベースにした、わかりやすく実践的なマハーラージの講話もご期待ください。
また比叡山では、今もなお最澄の祈りが感じられる神聖な場所など巡礼をいたします。
チラシ配布、申し込み受付は4月下旬の予定です。
Click here to go to the Japanese page where you can click on the English tittle of the event you want to view.

<Relief>
Thanks to the Donors
Dear All,
Our appeal for "Contribution to victims of the recent Kumamoto earthquake" was uploaded on our homepage on April 28th.
Our heartfelt thanks and gratitude go to those who had kindly responded to our appeal and sent donations from within and without Japan.
Donations received so far are being and will be also utilized for the support of the earthquake victims under the supervision of "Mother's group" (A group of our devotees of Kumamoto).
Now we would like to withdraw the appeal of donation with effect from June 30th as there is no more exigency of it.
Please be also informed that our appeal of donation for the victims of Nepal and East Japan earthquakes will be also withdrawn with effect from 30th June.
Swami Medhasananda
President,
Vedanta Society of Japan.

(Explanation in Japanese) 
Place : Embassy of India in Tokyo
Time : from 10:00 - 12:00 
Please Contact: Link

(Explanation in Japanese) 
Place : Embassy of India in Tokyo
Date : 1st Saturday of each month
Time : from 10:00 - 12:00 
Please Contact: Link
Arati Songs & Gospel of Sri Ramakrishna
Study classes  by Swami Medhasananda
Place : Society's main building
Date :2nd Tuesday of every month
Time : From 14:00 - 15:30
Note : If you take lunch before class please e-mail to Shanti (benkyo.nvk@gmail.com)
at least 2 days before the class.
Please check the actual date of the class from Kyokai's Home Page (Monthly schedule)

<Spiritual Q&A>
Questions on the topics of Vedanta, God, Soul, Mind, Relationships, and more, collected from various sources, are answered by Swami Medhasananda of the Vedanta Society of Japan, a branch of the Ramakrishna Order.