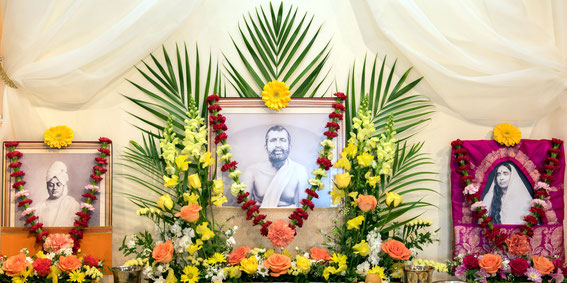 Updated April Schedule
Recently the Japanese government has announced that as the number of coronavirus (COVID-19) cases continues to rise in Japan, everyone should adopt social distancing measures and stay at home in order to prevent an explosion of such cases.
In the backdrop of this situation, we have updated the April schedule on our website to continue to provide mental and spiritual support to the devotees even when they stay at home.
The new schedule of April is shown at the end of this message. All the programmes will be livestreamed so that one can watch them on the computer at home or on one's mobile phone.
Let us sincerely pray that by the grace of Sri Ramakrishna the present crisis ends soon.
Let us also pray for everyone's good health and wellbeing.
Swami Medhasananda
President
Vedanta Society of Japan
April schedule
5th, Sun, 2 pm – 4 pm: Half Day Retreat at Zushi
Discourse topic: How to face the present crisis caused by the Corona pandemic.
 (both in English & Japanese)
12th, Sun, 2 pm – 4 pm: The Gospel of Sri Ramakrishna Study Class.
    (in Japanese Only)
19th, Sun, 2 pm – 4 pm: Monthly Talk.
   (both in English & Japanese)
   (Topic to be announced later)
26th, Sun, 2 pm – 4 pm: Discourse on the Bhagavad Gita.
 (in Japanese Only)
Note: this is NOT a continued programme of the discourses that are being given at the Embassy of India, Tokyo.
Sun, 29th Akhanda Japam → Cancelled
Link of the Live Streaming of talks→Please click
Click here to go to the Japanese page 'Live Streaming'.
Click here to go to the Japanese page where you can click on the English tittle of the event you want to view.
Sri Sarada Devi Birthday Celebration (19th January 2020) 
Kalpataru Day (1st January 2020) 
Sri Sri Kali Puja (27th October 2019)  

(Explanation in Japanese) 
Place : Embassy of India in Tokyo
Date : 1st Saturday of each month *Schedule
Time : from 10:30 - 12:00 
Please Contact: Link

Gospel of Sri Ramakrishna
Study classes  by Swami Medhasananda
(Explanation in Japanese) 
Place : Society's main building
Date :2nd Tuesday of every month
Time : From 14:00 - 16:30
Note : If you take lunch before class please e-mail to Shanti (benkyo.nvk@gmail.com)
at least 2 days before the class.
Please check the actual date of the class from Kyokai's Home Page (Monthly schedule)
Please Contact:Link

Spiritual Q&A
Questions on the topics of Vedanta, God, Soul, Mind, Relationships, and more, collected from various sources, are answered by Swami Medhasananda of the Vedanta Society of Japan, a branch of the Ramakrishna Order.