★

 Upcoming Programmes

★
All are welcome!
Swami visits India from 13th September to 14th October.
NEW Sri Sri Kali Puja
Date: Thursday, 19th October
Vedanta Society Annexe
Programme
19:00 Puja, Pushpanjali (offering of flowers), Homa,
21:30 Prasad
※No Parking
All are Welcome! 
Prior information about your participation (medhasananda@gmail.com) will be appreciated.
NEW <Monthly Retreat at Zushi>
Date: Sunday 15th, October
10:30 Meditation
11:00 Discourse
         Speaker: Swami Medhasananda
         Theme:Divine Mother
12:30 Lunch
14:45 Chanting, reading, discourse, songs
16:30 Tea
18:00 Arati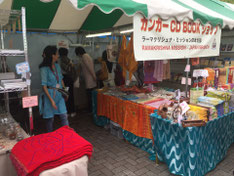 NEW <Namaste India>
Date: 23rd & 24th, September
Tokyo Yoyogi Park
The name of our shop is GANGA CD-BOOK SHOP.
Special discout for English books!
Our booth is V-35.
All are welcome!
※Link

Click here to go to the Japanese page where you can click on the English tittle of the event you want to view.
<Relief>
Thanks to the Donors
Dear All,
Our appeal for "Contribution to victims of the recent Kumamoto earthquake" was uploaded on our homepage on April 28th.
Our heartfelt thanks and gratitude go to those who had kindly responded to our appeal and sent donations from within and without Japan.
Donations received so far are being and will be also utilized for the support of the earthquake victims under the supervision of "Mother's group" (A group of our devotees of Kumamoto).
Now we would like to withdraw the appeal of donation with effect from June 30th as there is no more exigency of it.
Please be also informed that our appeal of donation for the victims of Nepal and East Japan earthquakes will be also withdrawn with effect from 30th June.
Swami Medhasananda
President,
Vedanta Society of Japan.

(Explanation in Japanese) 
Place : Embassy of India in Tokyo
Time : from 10:00 - 12:00 
Please Contact: Link

(Explanation in Japanese) 
Place : Embassy of India in Tokyo
Date : 1st Saturday of each month
Time : from 10:00 - 12:00 
Please Contact: Link
Arati Songs & Gospel of Sri Ramakrishna
Study classes  by Swami Medhasananda
Place : Society's main building
Date :2nd Tuesday of every month
Time : From 14:00 - 15:30
Note : If you take lunch before class please e-mail to Shanti (benkyo.nvk@gmail.com)
at least 2 days before the class.
Please check the actual date of the class from Kyokai's Home Page (Monthly schedule)

<Spiritual Q&A>
Questions on the topics of Vedanta, God, Soul, Mind, Relationships, and more, collected from various sources, are answered by Swami Medhasananda of the Vedanta Society of Japan, a branch of the Ramakrishna Order.