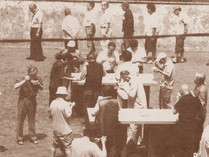 Once a month volunteers from the Vedanta Society of Japan (Nippon Vedanta Kyokai) go to Kotobukicho, Yokohama to serve on the Society's Osewa Homeless Narayanas programme.
Interested persons are most welcome to donate the following items for this program:
Male clothing (used outerwear is fine, but items should be properly cleaned).
Fresh or dried fruits
Dishes & plates for rice dishes.
To volunteer or to send parcels please contact Ms. Sato by cellphone at 090-6544-9304 or at 046-873-0428